---
| | |
| --- | --- |
| Online payment for each vendor table: $20 | |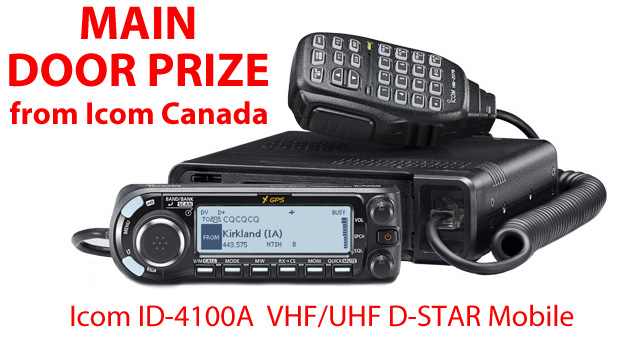 Photo by Steven, VA7SMY and Urey, VE7URE
The Richmond Amateur Radio Club (RARC) will be hosting it's second annual celebration of Amateur radio communications on Saturday, April 7, 2018 at the South Arm United Church in south Richmond (southwest corner of No. 3 Rd. and Steveston Hwy.) Once again, the event will include a display of Amateur radio emergency communications with vehicles and equipmen from local municipalities and Amateur radio organizations, as well as vendors of Amateur radio and related electronics equipment.
Updates on the Richmond Amateur Radio Exhibition & Swap Meet will be posted on this page as they become available: www.richmondarc.ca/hamfest2018.html
---
PROVIDER OF DOOR PRIZES AND DONATED ITEMS
---
Venue: South Arm United Church (Gym Hall)
Address: 11051 No. 3 Road, Richmond, BC (SW corner Steveston Hwy. & No. 3 Rd.)
Hours: 9 AM to 12:30 PM
Admission: $5 per person (free admission to children under age of 12)
Parking: FREE (Church parking lot)

Vendor Table: $20 each, includes 2 free admissions
Half Vendor Table: $10 (shared with another vendor)
Exhibitor Table: no charge (no sales permitted)

Vendor and Exhibitor set up: 8 AM
Doors open to the public: 9 AM
Final prize draw: 12 Noon
Premises must be vacated by vendors no later than 1 PM

Coffee, beverages and snacks available for sale at the 'RAR Cafe'
Door prizes and raffles (licence pending)
---
MARKETING OPPORTUNITIES FOR DONORS AND ADVERTISERS
The RARC Swap Meet on Apr. 7, 2018 presents marketing opportunities for vendors of Amateur radio and related computer and electronics products and services to the Amateur radio community in the Greater Vancovuer area. This event takes place in the Vancouver and Richmond part of the Lower Mainland, drawing attendees from a new market segment along with regular Amateur radio enthusiasts from the Lower Mainland and Fraser Valley.
RARC welcomes support from corporate vendors through donations of Amateur radio related items (to be raffed as door prizes at the event) in exchange for advertising and publicity benefits.
DOOR PRIZE

RECOGNITION
ON WEB SITE

LOGO or NAME
ON POSTER

VENDOR TABLE
(with 2 admissions)

Less than $50 value

✔

$50 to $100 value

✔

✔

$100 to $200 value

✔

✔

One free table

$200 to $300 value

✔

✔

Two free tables

Above $300 value

✔

✔

To be negotiated
Donors and advertisers sigining up share in the publicity by being a part of the RARC marketing for the Exhibition & Swap Meet. Advertising and publicity benefits include:
E-mails - Messaging with planned follow-up content are sent to identified groups in the community that may be target markets for the event. These groups include local Amateur radio organizations, groups that are related to the electronics hobby, groups that have potential interests in Amateur radio, and businesses that may be interested in products at the sawp meet.
Posters - Printed posters will be distributed at locations that are frequented by a broad section of the community (e.g. local community centres, coffee shops, business with community activities bulleting boards). Posters will also be posted at venues where there will be high-traffic events (i.e. Christmas craft fairs, community concerts, etc.). Posters will be periodically updated with new donors and advertisers on the list.
Web Site presence - Updates on the event and related Amateur radio information will be posted on the RARC Website (www.rarclub.ca) and event Website (www.richmondarc.ca) to generate frequent visits to the page and cultivate conversation about upcoming events.
CONSIDER THE MARKETING OPPORTUNITIES FOR YOUR COMPANY BY BEING ON RARC'S PROMOTION PROGRAM FOR THE SWAP MEET.
For more information on marketing opportunities with RARC's promotion program for the swap meet, please contact: Urey, VE7URE
Information about RARC: www.rarclub.ca
---