---
RARC SSTV POST-EVENT NOTES
Participation certificates are being sent out as submisions are received. Deadline for submissions is Aug. 20, 2019.
If you missed out on receiving the images, or are unable to receive the images, you can decode them from the WAV files posted in the 'ABOUT THE TRANSMITTED IMAGES' section below until July 24, 2019, 17:00 UTC (10:00 AM PDT), the approximate time of Apollo 11 splashdown.
In the days to come, we will post some of the images received by stations across the Lower Mainland, from as far away as Langley and Chilliwack.
Stay tuned for info on the 50th Ann. Apollo 12 SSTV event in Nov. 2019.

On Saturday, July 20, 2019, to commemorate the 50th anniversary of the Apollo 11 moon landing, Richmond Amateur Radio Club (RARC), with assistance from Burnaby Amateur Radio Club (BARC), will be transmitting a series of 11 historic NASA images using slow scan television (SSTV) on the VHF frequency of 145.500 MHz. The 640 x 496 pixels images will be tramsmitted by FM on simplex with PD120 encoding. Participants who successfully either receive the images or determine the 11-letter code word will qualify for a special certificate as souvenir of the RARC SSTV event. The letters, each assigned to a respective image, make up the 11-letter word. (More info about the transmitted images and how to qualify for your certificate below.)
Objectives of the RARC SSTV event are to:
- Commemorate the 50th anniversary of the NASA Apollo Program's first moon landing,
- Educate and inform participants about interesting aspects of the Apollo 11 mission,
- Demonstrate how Amateur radio SSTV practices are similar to the technology used 50 years ago to transmit images from the moon back to Earth, and
- Promote awareness of another fun and intereting aspect of the Amateur radio hobby.

IMAGE
TRANSMISSION SCHEDULE
SSTV images will be transmitted on July 20th between 1 pm to 8 pm (PDT local time). This time window is based on the time from when the Lunar Module Eagle landed on the moon to when Neil Armstrong stepped onto the lunar surface.
The Eagle landed on the moon July 20, 1969, 20:17 UTC (1:17 PM local time), and Neil Armstrong set foot on the lunar surface on July 21, 1969, 02:56 UTC (7:56 PM local time). Buzz Alrdrin joined Armstrong 19 minutes afterwards.
ABOUT THE TRANSMITTED IMAGES
Images (with accompanying text) to be transmitted are to inform and educate recipients about the Apollo 11 event. Unedited images are selected from NASA sources, public content on the Apollo 11 mission, and photo archives. Some of the chosen images are not commonly published.

All 11 images are configured to an overall size of 640 x 496 pixels. Some of the images are displayed 1:1 (square) to retain composition of the original image (captured on 120 film format), leaving a margin on the right for text information about the image.

Text added to each image contains information about the sender, the image number and reference letter for each of the 11 images in the series, and notes on the subject of the image and the photo.

Black and white images are stills from SSTV transmissions sent by specially designed television and Maurer video cameras for the Apollo mission. Colour images are from 70 mm cameras (NASA modified Hasselblads) using special 61 x 61 mm negatives.



Size of transmitted image: 640 x 496 pixels

NOTE: Those who would like to acquire the images but are unable to receive the actual SSTV transmissions can download the WAV files posted below, and then decode them until July 24, 2019, 17:00 UTC.

HOW TO OBTAIN YOUR PERSONALIZED CERTIFICATE
To qualify for your personalized RARC SSTV event certificate, all that's required is to successfully receive some of the images, or determine the 11-letter name (used in the Apollo 11 mission) composed of the letters from each image.

IMAGES DECODED FROM WAV FILES POSTED ON THIS SITE AFTER THE EVENT DO NOT QUALIFY FOR CERTIFICATE.

Send a copy of your received SSTV image or the 11-letter word with your name and call sign (to be printed on your certificate) to:
ve7ure@cwthree.com
and a jpeg file of your certificate will be e-mailed to you. Deadline for certificate requests is Aug. 20, 2019.



Actual size of certificate: 8.5 x 11 in.
INTERESTING REFERENCE INFO
Development of special slow-scan television cameras for the Apollo project:
https://www.hq.nasa.gov/alsj/ApolloTV-Acrobat5.pdf
Camera equipment and photography of Apollo 11:
https://www.lpi.usra.edu/lunar/missions/apollo/apollo_11/photography/
NASA report on Apollo 11 telemetry data recordings::
https://www.hq.nasa.gov/alsj/a11/Apollo_11_TV_Tapes_Report.pdf

Still photography during the Apollo missions:
https://history.nasa.gov/apollo_photo.html

Journal on use of Hasselblad cameras and film magazines on Apollo 11 Lunar Module:
https://www.hq.nasa.gov/alsj/a11/a11LM-Cams-Mags.html
HD videos of Apollo 11 mission from NASA site:
https://www.nasa.gov/multimedia/hd/apollo11_hdpage.html
Comprehensive collection of Apollo mission photographs:
https://www.lpi.usra.edu/resources/apollo/

Project Apollo Archive Image Gallery - extensive collection of images from the Apollo program:
http://www.apolloarchive.com/apollo_gallery.html/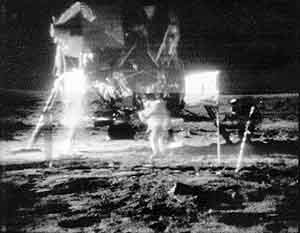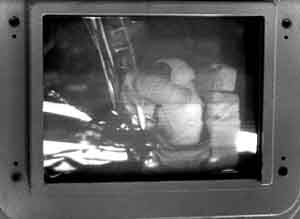 I have to say that most initiatives are driven by leadership and inspiration (with the prespiration to follow). And for this STV project, I have to give acknowledgement to Brad Wilson, VA7BWX for taking the initiative to coordinate the SSTV event on Field Day 2019. SSTV was not on the ARRL Field Day agenda but his enthusiasm for the hobby was infectious and, hence the inspiration for this SSTV Apollo 11 50th Anniversary project. That's what Amateur radio is all about!
Thank you to our Richmond Amateur Radio Club members for spearheading this project:
- Ken McIntosh, VA7KBM (SSTV radio operations, Steveston, Richmond, BC)
- Urey Chan, VE7URE (content research, image graphics)
And also the assistance of Burnaby Amateur Radio Club
- Brad Wilson, VA7BWX (SSTV radio operations, New Westminster, BC)
Photo credits and info sources:
- National Aeronautics and Space Administration (NASA)
- Smithsonian National Air and Space Museum
- Lunar and Planetary Institute, Apollo Image Atlas Archives
- National Geographic
- Hasselblad
- Wikipedia

The SSTV Event for the 50th Anniversary of the Apollo 11 Moon Landing is a project
by Richmond Amateur Radio Club under the club's Outreach Program
For more info about RARC, e-mail: info@richmondarc.ca
Please direct all media relations enquiries to: ureyc@cwthree.com
---