---
Thank You For Your Participation & Support
---


---
DOOR PRIZE WINNERS
MAIN DOOR PRIZE BY RADIOWORLD CENTRAL
ICOM IC-705 - HF/VHF/UHF Portable QRP Transceiver
Janice Mooney, VA7JMO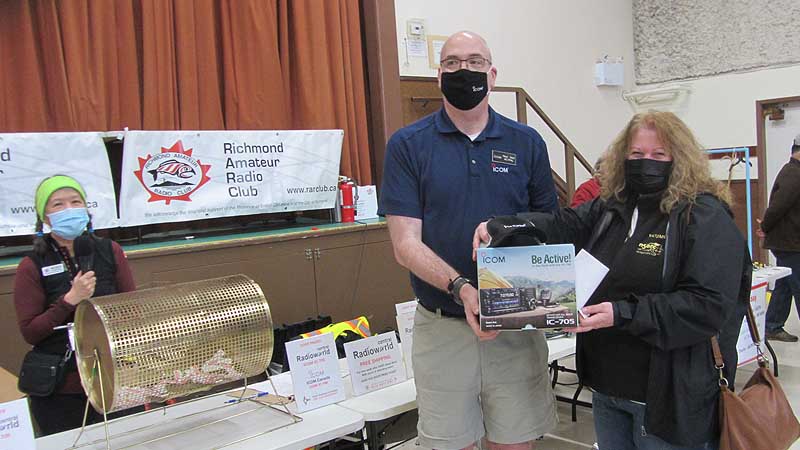 DOOR PRIZE BY ICOM CANADA
ICOM IC-V86 - VHF FM Portable 7 W Handheld
Bob Paxton, VE7RPX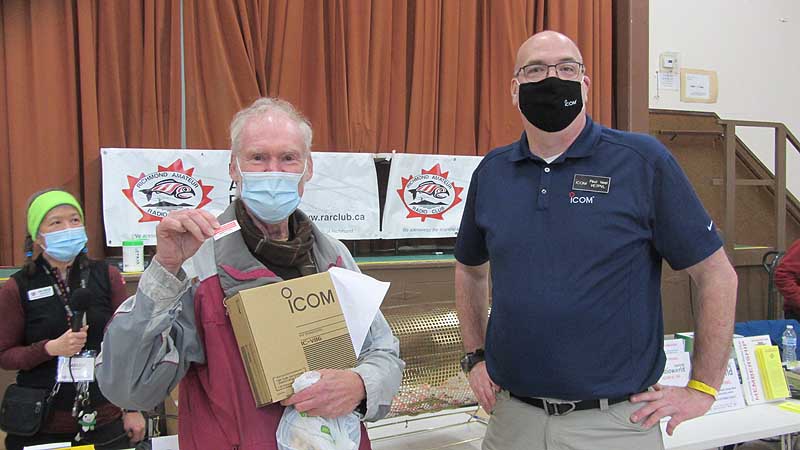 DOOR PRIZE BY RADIO AMATEURS OF CANADA
One Year Membership
Graham Cartwright, VA7GCA
(Photo unavailable - Winner not present to claim prize at event.)
(Door prize mailed to postal address of winner.)
---
WHAT ACTUALLY HAPPENED

Daybreak, November 27, 2021 - It's 07:30 with first light barely breaking through the heavy overcast and light drizzle. Many vehicles were already in the South Arm United Church parking lot, some of them vendors who either arrived early to grab a favourable unloading spot or were just eager to meet fellow hams who they have not seen (in person) for 20 months. This is the first swap meet in the Vancouver area since the Burnaby ARC event back in February 2020.
It was comforting to see the entire RARC team arriving on time with all the stuff ready to set up the hall. With the numbers on the door access keypad barely visible in the faint light, the pass code was entered but nothing happened - neither buzz nor click was heard. This was repeated several times with different permutations of the pass code in case the church people set up the code incorrectly on the night before. Still nothing was heard after punching all the digits. Meanwhile the growing crowd in the parking lot was becoming restless. This was the Murphy that failed to show up at past RARC events.
Attempts to phone the listed building manager contacts all ended up with recorded messages, one of them having full voicemail box. Finally a callback was received at around 08:00 saying that someone will be by the church with a key in 20 minutes. By 08:30, one hour behind schedule, the door was finally opened we were able to set up the hall so that vendors can set up their tables. Thanks to the vendors' patience and understanding, and the RARC members' diligence with the vaccination verification, the doors were finally opened by 09:30 to attendees waiting in the rain. The faster than expected set up only delayed the event schedule by half an hour.
All in all, the swap meet went rather well with everthing unfolded as scripted. The planning process was pretty much a cookie-cutter from previous events but this time, much of the effort and energy was expended towards accommodating and communicating the safety requirements of both Provincial Heahth Orders and South Arm United Church (the venue), and also dealing with elements of the Amateur radio community that were against the vaccination verification and did not want to support the event. Thanks to the professionalism of RARC members performing the verification process at the door, none of the anticipated altercations at the event materialized.
The event would have been similar to past events except that everyone was wearing a mask and attendance was about half the usual number. RARC's decision to green-light the event at the end of September was inspired by the success of 'Ham Hapenings' hosted by Nanaimo ARA on Sept. 11. But who would have thought two months afterwards that:

* Central Fraser Valley (mainly the Abbotsford area) and many other parts of the province were under a state of emergency due to severe floodind.
* Fuel rationning (limited to 30 li per vehicle at the pumps) was in place with non-essential travel travel restrictions into Vancouver.
* The new 'Omicron' variant was officially announced by news media just hours prior to the event.
A big thank you to everyone (who braved all the elements) for coming out and contributing to the event's success, including those who did not attend as they helped to keep the odds down for winning the door prizes (hihi). But the greatest appreciation goes to Radioworld Central and ICOM for their ongong support and confidence in backing this swap meet from the getgo.
73 de VE7URE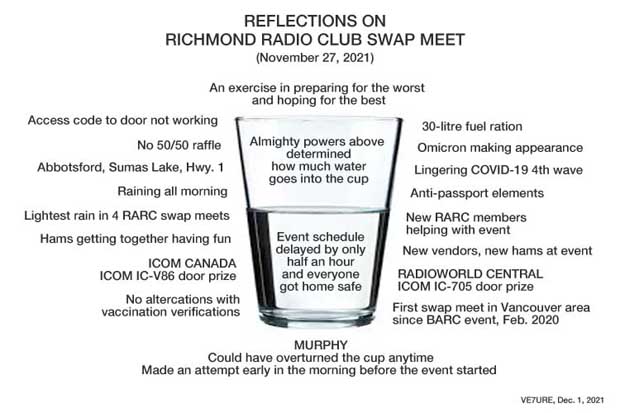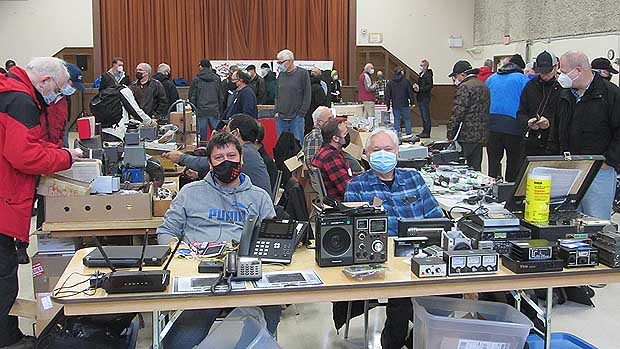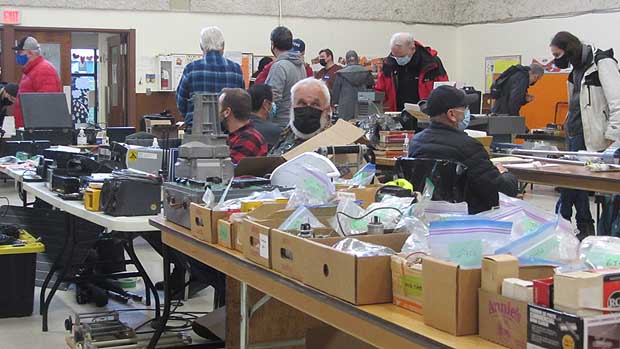 ---
EVENT UPDATES - Nov. 25, 2021 - ARRIVAL AT EVENT
* Make sure you are in the correct lineup when you arrive at the entrance of the event hall. One line will be for those waiting to have theiir vaccination verified, another line is for those who have gone through the check-in process and received their wristband. The wristband is your permit to enter the building and indicates that you have proof of vaccination and paid admission.

* Overflow parking is available about 0.8 km away (or about 10 min. walk) at No.3 and Williams Rds. in Broadmoor Village and Richlea Shopping Centre. Parking space in the church lot has been reduced due to local construction. Carpool if possible.

* If taking transit, take 403 southbound from Canada Line at Brighouse Station and get off at Steveston Hwy. and No.3 Rd. (Timetable for route 403)
EVENT UPDATES - Nov. 24, 2021
* The Event Safety Plan is constantly updated and modified to best meet safety requirements for the event. Everyone will need to go through the following process before being allowed to enter the event building.

1. Have your proof of vaccination verified.
2. Present photo ID (if you are recognized by check-in person then step 2 will not be required)
3. Pay $5 admission and receive pair of door prize ticket
4. Provide contact information (optional) and receive wristband
5. Go to lineup for those already checked in (with wristbands)

Only people with wristband will be peritted to enter the event building (swap meet area).
EVENT UPDATES - Nov. 23, 2021
* Ongoing city infrastructure construction on the church site has reduced the number of available parking spots. There are some roadside parking along sections of No. 3 Rd. south of Steveston Hwy. Nearest lot for overflow parking is at Broadmoor Shopping Centre on 10111 No. 3 Rd. (at Williams Rd.), about 0.8 km north of Steveston Hwy. Best to carpool if possible.

* Anyone arriving early or need to grab a bite or coffee can stop by Broadmoor Shopping Centre (0.8 km north of event site at No. 3 and Williams Rds.) or Ironwood Plaza and Coppersmith Corner (about 3.4 km or 6 min. drive away at Steveston Hwy. and No. 5 Rd.).
EVENT UPDATE - Nov. 22, 2021
• Radioworld Central offers free shipping on purchases for one week following swap meet to all event participants with proof of attendance (so keep your door prize tickets).

* Table sales ended in order to allow more room for attendees into event at one time.
EVENT UPDATES - Nov. 18, 2021
* Information for all attendees, vendors and exhibitors with Event Safety Plan.
(MUST READ DOCUMENT FOR EVERYONE ATTENDING THE SWAP MEET)

* Hall for swap meet has total occupancy limit of 125 persons. Attendees will have a courtesy time limit of 20 minutes inside event and then need to exit and line up again so that others can enter.

* Proof of vaccination check-in starts at 08:30 to expedite entry into event when doors open.

* There is limited parking on church lot due to city construction so car pooling is advised. Additional parking is available on sections of No. 3 Rd.

* You do not need to be present to claim door prize so make sure you leave your contact info at front desk before entering event.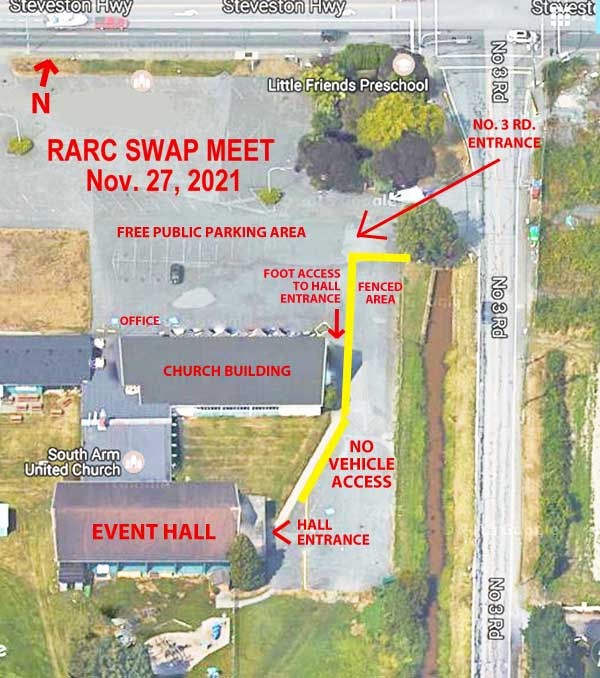 ---
SAFETY PLAN FOR SWAP MEET
An event safety plan is established to comply with BC Public Health orders and South Arm United Church requirements at where the event will take place. These safety measures will be carried out for the safety of all parties involved at the event and occupants of the premise afterwards.
A) BC PUBLIC HEALTH ORDERS AND DIRECTIONS
* Proof of vaccination required to enter event.
* Presentation of BC Vaccine Card (or other valid proof of vaccination) and one piece of government photo ID is required to enter event. (more)
* Masks required inside the event.
(Friday, October 29, 2021) British Columbia's provincial health officer has extended the mask mandate that requires masks be worn in all indoor public spaces throughout B.C. This includes common areas of non-profit organizations. (more)
B) EVENT SITE REQUIREMENTS AND RECOMMENDATIONS
Requirements by South Arm United Church
* Masks are mandatory inside building (area is being used as child care facility during the week).
* No consumption of food or beverages inside building.
General Safety Recommendations
* Maintain social distancing whenever possible.
* Minimize face-to-face conversations.
* Wear gloves when handling items.

Recommendations for Vendors
* Same as general safety recommendations (above) plus:
* Wipe (with sanitizer) table and items on table regularly.
* Avoid sitting closely together if more than one person is attending table.
Face masks, hand gloves (latex-free) and sanitizing wipes will be available at event.
---


ICOM Canada



IC-V86


VHF HANDHELD TRANSCEIVER
7 W Output Power
IP54 Waterproof rating
.


(Click image for brochure)


One-Year Membership
Radio Amateurs of Canada

---
ABOUT THE EVENT
The Richmond Amateur Radio Club (RARC) will be hosting an indoor swap meet for Amateur radio and related items on Saturday, November 27, 2021 at the South Arm United Church in south Richmond (southwest corner of Number 3 Rd. and Steveston Hwy.). All participants at the event will need to exercise current COVID-19 safety practices.
Venue: South Arm United Church - Gym Hall (south of church section)
Address: 11051 No. 3 Road, Richmond, BC (SW corner Steveston Hwy. & No. 3 Rd.)
Hours: 9:00 AM to 11:30 AM
Admission: $5 per person (free admission for children under age of 12)
Vendor table (6 feet long): $20 each, includes one free admission)
Parking: FREE (Church parking lot)

---
EVENT SCHEDULE
08:00 - Vendor and exhibitor set up
08:30 - Proof of vaccination check-in begins
09:00 - Event starts - doors open to swap meet area
11:00 - Admission closes - ticket sles ends
11:10 - Sealing of door prize ticket drum
11:15 - Announcement of door prizes
11:30 - End of event, tear down and clean up begins
Premises must be vacated by vendors no later than 12:30

---