Saturday, July 15, 2023 - 09:30 to 12:30
THANK YOU FOR ANOTHER SUCCESSFUL EVENT
---
Congratulations to our door prize winners!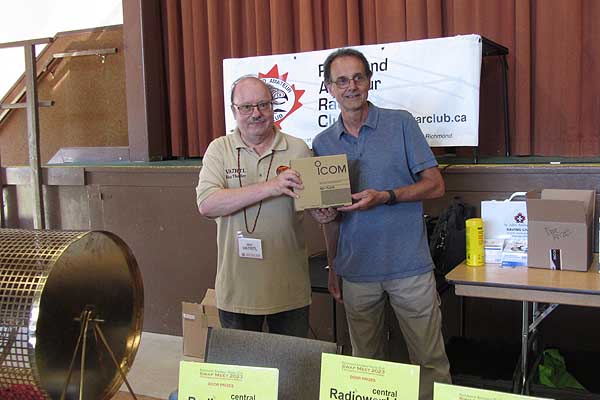 Grand door prize winner (ticket no. 877325), Walter Salden, VE7WRS, receives ICOM IC-52A provided by Radioworld Central of Calgary. Prize is presented by Roy Thaller, VA7RTL, RARC Vice-President, on behalf of Radioworld Central.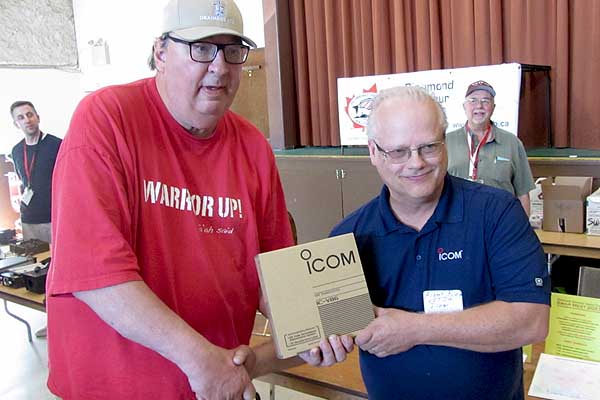 Another major door prize winner (ticket no. 877345), Wul Hartman, VE7WHL, receives ICOM IC-V86 provided by ICOM Canada. Presenting the prize is Albert Riopel, VA7BYI from ICOM Canada office in Delta, BC.

Winner of door prize from Radio Amateurs of Canada (ticket no. 877312) is Erich Burr, VA7EHB, presented by Richard Shanks, VE7PNP, RARC Director, on behalf of RAC.
Winners of President Electronics branded items provided by Fleetwood Digital Products:
- Jacket: (ticket no. 877083) Dan
- Cap: (877074) Tak Liu, VE7NV
- Cap: (ticket no. 877071) David
- Cap: (ticket no. 877345) ???
---
IMAGES FROM THE EVENT ON JULY 15, 2023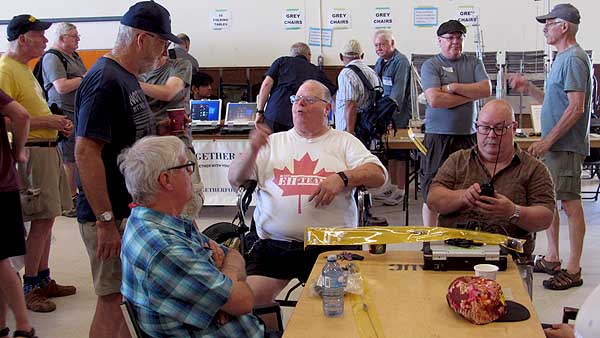 What the event is really all about - social get-togethers, knowledge exchange and just plain good times rag chewing Amateur radio stuff.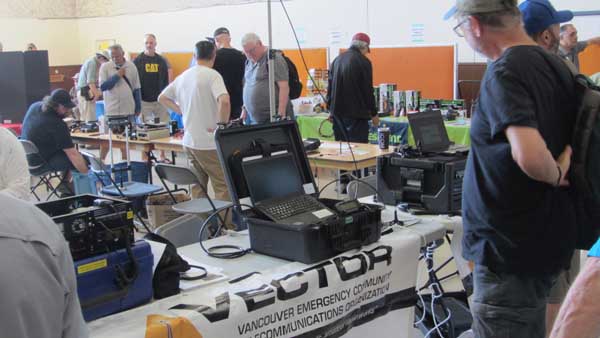 The RARC event is more than an occasion to sell used items - the venue is also a place for emergency communication displays for vehicles and related equipment.
---
THANK YOU TO OUR SPONSORS FOR THE DOOR PRIZES
ICOM IC-V86
ICOM ID-52A
One-year
Membership
---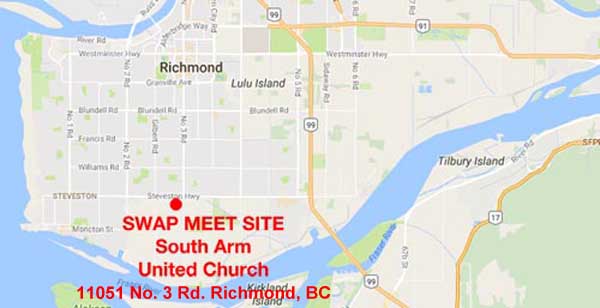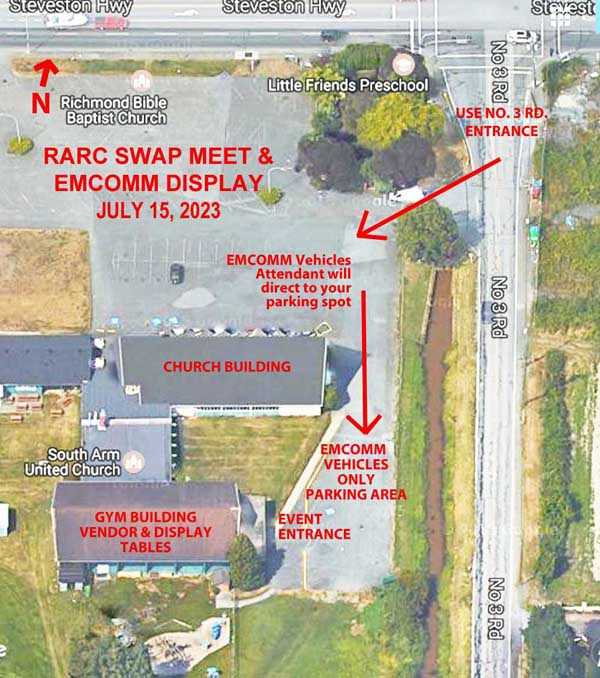 ---
MARKETING OPPORTUNITIES FOR DONORS AND ADVERTISERS
The RARC Swap Meet on Nov.. 27, 2021 presents marketing opportunities for vendors of Amateur radio and related products and services to the Amateur radio community in the Lower Mainland region of BC. This event takes place in south Richmond, drawing participants from Greater Vancouver, Fraser Valley and as far as the Okanagan.
RARC welcomes support from corporate vendors through donations of Amateur radio related items (to be raffed as door prizes at the event) in exchange for advertising and publicity benefits.
DOOR PRIZE

RECOGNITION
ON WEB SITE

LOGO or NAME
ON FLYER

VENDOR TABLE
(with 2 admissions)

Less than $100 value

✔

✔

$100 to $250 value

✔

✔

One free table

$250 to $500 value

✔

✔

Two free tables

Above $500 value

✔

✔

To be negotiated
Donors and advertisers engaging before May 15, 2023 will have about a two-month window of publicity by being included with RARC marketing for the event. Advertising and publicity benefits for supporting the swap meet includes:
E-mails - Messaging with planned follow-up content are sent to identified groups in the community that may be target markets for the event. These groups include local Amateur radio organizations, groups that are related to the electronics hobby, groups that have potential interests in Amateur radio, and businesses that may be interested in products at the sawp meet.
Flyers distribution - Flyers will be electronically distributed on social media and sent to local community groups interested in the event. Content will be periodically updated with current donors and advertisers.
Web Site presence - Updates on the event and related Amateur radio information will be posted on the RARC online assets (Website at www.richmondarc.ca and RARC Facebook page) to cultivate publicity for the event.
Radio nets - Efforts will be made to announce the event at local Amateur radio club radio nets.
CONSIDER THE MARKETING OPPORTUNITIES FOR YOUR COMPANY BY BEING ON RARC'S PROMOTION PROGRAM FOR THE SWAP MEET.
For more information on marketing opportunities with RARC's promotion program for the swap meet, please contact: Urey, VE7URE
Information about RARC: www.rarclub.ca
---