Basic Qualification Radio Course
Feb. 9 to Mar. 16, 2019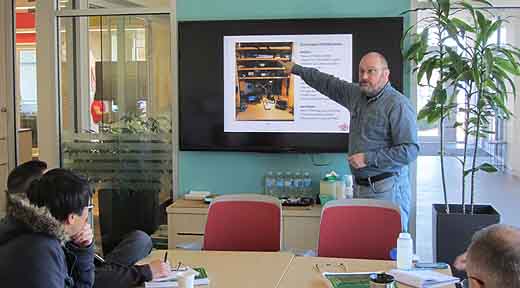 About the Radio Course
The Basic Qualification course consists of 15 hours classroom instructions with the curriculum based on topics covered by the Industry, Science and Economic Development Canada (or ISED Canada, formerly Industry Canada) exam and the class syllabus to include hands-on practices with additional presentations to give students a better understanding of the Amateur radio hobby and its involvement in emergency communications.
Classes are held over five Saturday mornings (starting on Feb. 9) with the exam on the sixth class (Mar. 16). The classroom is in a boardroom environment at the Vancity 'Community Stage' (at Blundell Centre) with class size limited to no more than 15 students for more productive discussions and knowledge exchange.
Registration fee of $100 includes: Coax Publications textbook (cost $60 retail), instructor notes, qualification exam, and immediate (on-line) registration of call sign with ISED Canada upon passing exam. Successful students will each receive one year trial membership with RARC.
Fee payment can be made by cheque or cash. All payments are to be made payable to 'Richmond Amateur Radio Club.' Early payment can be arranged so students can also pick up their text book before the course.
---
Course Instructors
Classes are conducted by a faculty of instructors who are club members that are knowledgable and passionate about their respective Amateur radio subjects of interest. Many instructors are long-time radio operators and also hold Advanced and Morse Code qualifications. Classes usually have more than one instructor as well as other club members present to assist with the presentations and also enhance the value of the information exchange. The exam will be conducted by club members who are ISED Canada accredited (volunteer) examiners.
---
Why do you need a Basic qualification?
A Basic (level) qualification is required by ISED Canada to transmit on allocated Amateur radio frequencies and is usually the first step into the Amateur radio hobby. Morse Code is a separate qualification and is no longer a requirement for the Basic certificate. The Advanced qualification can be obtained following the Basic qualification for greater operating privileges (i.e. using higher power).
Since emergency communications involve Amateur radio, volunteers (in Canada) will require a Basic qualification in order to operate on Amateur frequencies during activation and exercises activities. As radio transmissions on HF bands play a greater role in emergency commmunications, Amateur radio operators should possess at least a Basic with Honours (80+% exam score) or additional Advanced qualification before volunteering for an emergency communications organization.
To register for the Basic Qualification course, send us an e-mail with the following info:
- Your name (same as on your govt. ID)
- Telephone number (phone contact)
- E-mail address (e-mail contact)
- Resident address (for cal sign registration)

Course fee ($100) can be paid by:
- Mailing cheque to club postal address at:
PO Box 88061, Richmond, BC, V6X 3T6
- Bringing cheque or cash to club gathering at
Lansdowne Centre, Sat. 11:00 in Jan. 2019
- Paying on the first day of course (Feb. 9)
- Paying online with PayPal (below)
---
Why is Personal Info
Required for the Course?

Your personal information is necessary in order to submit your exam score to ISED Canada and register your call sign.

Name: Needs to be same as the one on your government issued ID and will be used for your ISED Canada issued certificate (a.k.a. licence).

E-mail address: Required by ISED Canada to contact you so you can personally register your call sign.

Residential Address: Canadian residency is required for your call sign. Province of your address will determine your call sign prefix. You can enter your full address when you create your ISED account and then have the option to to display only your province on the ISED Canada site's call sign search datatbase.

Date of Birth: Your birth date is required to submit your exam score to ISED Canada. You can choose to enter that info confidentially yourself when the examiner is on the ISED Canada site.
---
Club Instructors
Feb. 2019 BASIC COURSE

Urey Chan, VE7URE
Charles Cohen, VA7CPC
Carole Eng, VA7QCE
Allan Leong, VE7WXZ
Eric Scott, VE7KLZ
Peter Walsh, VE7XPW

RARC instructors consist of experienced, as well as long-time, radio operators, some of whom also hold Advanced and Morse Code qualifications. The club also has members who are Government of Canada accredited examiners to conduct qualification exams.