Next Basic Qualification Radio Course

Online Version

Feb. 12 to Mar. 26, 2022

(Registration Closed for Oct. 2, 2021 Fall Basic Course)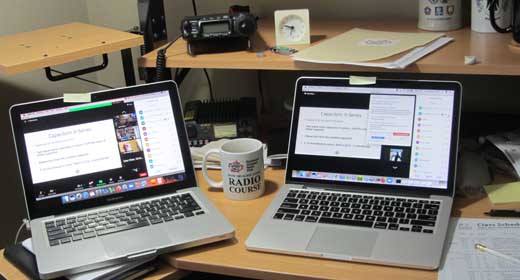 ---
About the Radio Course
The RARC Basic Qualification course is structured around 15 hours of instructions with a curriculum based on 100 topics in the Innovation, Science and Economic Development Canada (ISED) exam for the Amateur Radio Operator Certificate.
Syllabus for the online version of this course includes additional audio-visual content, interactive presentations and reference handouts to help students obtain a better understanding of the Amateur radio topics and basic radio operations.
Classes are held on five consecutive Saturday mornings starting on Feb. 12, from 9 am to noon, with the exam on Mar. 26. No classes will be held on Feb. 19 to free up the Family Day long weekend.
The classroom is an Internet-based, online environment using mainstream virtual conferencing tools (i.e. Zoom). Class size will be limited to retain productive discussions and knowledge exchange.
How and where the ISED exam will be conducted following the end of the course depends on safety practices and available venues at that time. Based on current COVID-19 restrictions, plans are to hold the written exam at an open food court in Richmond where our last two written exams over the past four months were conducted. Protocols for one-to-one online examinations are presently in place but that option will only be a last resort.
Registration fee will include a course sudy guide, reference handouts, instructor notes, Government of Canada (ISED) Basic Qualification exam, and online registration of call sign upon passing exam. Successful students will each receive one year trial membership with RARC.
Payment of registration fee can be made electronically by either PayPal or Interac e-Transfer. Payment information is on the right-hand column of this page.
---
Course Instructors
Classes are conducted by a faculty of instructors who are RARC members that are knowledgable and passionate about their respective Amateur radio subjects of interest. Some instructors are long-time radio operators and also hold Advanced and Morse Code qualifications. Classes usually have more than one instructor as well as other club members present to assist with the presentations and help answer questions from students. The exam will be conducted by RARC members who are Government of Canada ISED accredited (volunteer) examiners.
---
Why do you need a Basic qualification?
A Basic qualification certificate is required by ISED to legally transmit on allocated Amateur radio frequencies and is usually the first step into the Amateur radio hobby. Morse Code is a separate qualification and is no longer a requirement for a Basic qualification certificate. The Advanced qualification can be obtained for additional operating privileges after the Basic qualification.
Since many emergency communication services involve Amateur radio, volunteers (in Canada) will require a Basic qualification in order to operate on Amateur frequencies during emergency exercises and activation. As radio transmissions using HF bands are becoming more significant in emergency commmunications, it is recommended that Amateur radio operators possess at least Basic with Honours qualification (80%+ exam score) before volunteering with an Amateur radio emergency communications organization.